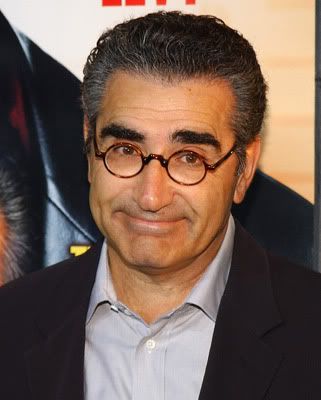 Antes
Nos anos 70 ganhou Melhor Actor em Sitges com "
Cannibal Girls
" de Ivan Reitman. Nos 80 tornou-se bastante popular na série canadiana "
Second City TV
" pela qual foi 9 vezes nomeado a Emmy em dois anos (duas vitórias). Teve papéis secundários em comédias como "
Splash
" e "
Multiplicity
" ou no díptico "
Father of the Bride
" onde pela primeira vez contracenou com Steve Martin.
Durante
Podem não se lembrar de Levy e o apelido Levenstein pode não ser familiar, mas
Jim's Father
é uma personagem que todos recordarão. Com uma enorme vontade de ajudar e um talento excepcional para deixar o filho embaraçado, Noah Levenstein é uma das pedras fundamentais da saga. Tanto é que foi o único actor a entrar nos oito capítulos da saga. Confusos? Perderam a conta antes do sétimo? Foram os 3 originais, o"
Band Camp
", "
The Naked Mile
", "
Beta House
" e finalmente "
The Book of Love
". Estes sairam directos para video.
Depois
Continuou a marcar presença regular em comédias de Steve Martin como "
Bringing Down the House
" e "
Cheaper By the Dozen 2
", entrou ainda em "
Serendipity
", "
Dumb and Dumbered 2
", "
New York Minute
" e também vai poder ser visto com Scott em "
The Goon
". Emprestou ainda a voz a "
Night at the Museum 2
", "
Curious George
", "
Over the Hedge
" e "
Astro Boy
".
Prémios
Além dos já referidos Emmys e de Sitges, ganhou um Grammy (é músico como poderão ver em "
Father of the Bride
" ou no CD "We Are the World"), foi galardoado por diversos círculos da crítica e nos Canadian Comedy Awards ganhou cinco prémios num espaço de quatro anos (2001-2004). Ou como o próprio diria: